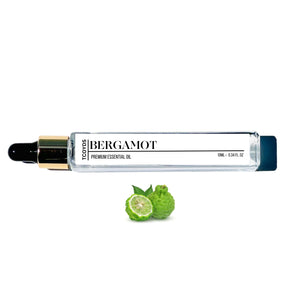 BERGAMOT 
The rind of this Italian citrus fruit is highly uplifting, invigorating and fresh.
An instant mood booster of which we left inconspicuously in many of your orders. 
Not only will you be feeling its effects of calm and vigor, you'll also be calming down the humans around you.
I WAFT OF and WHAT DO I DO?
Bergamot has a bold citrus scent which is totally different from oranges, limes and lemons.
Envision tart freshness that wakes you up and also lets you sleep soundly. 
Lets this beautifully fruit rind tickle your senses, whilst reducing anxiety and depression.  
Bergapten-Free (BPF)
If signs of irritation occur, discontinue use immediately.
If irritation continues contact a doctor. 
Keep out of reach of children because they stay wildin.
Store at room temperature and keep the bottle out of direct sunlight to
maintain its strength.
10ML ℮ 0.34 fl.oz.